Health Journalism 2023: Field trips
Health Journalism 2023 offers two field trip options highlighting research in action, how a major city is addressing social determinants of health and an innovative project to reduce maternal mortality.


Both field trips are scheduled for 7:45 a.m. to 4 p.m. on Thursday, March 9. Seating is limited.

To be eligible to sign up for a field trip, you must be a journalist and you must be registered for the conference.
Field trip 1
Old problems, new solutions: Breaking ground
at Washington University/BJC
(Please note that you'll need to present proof of vaccination for COVID-19 to participate in this tour.)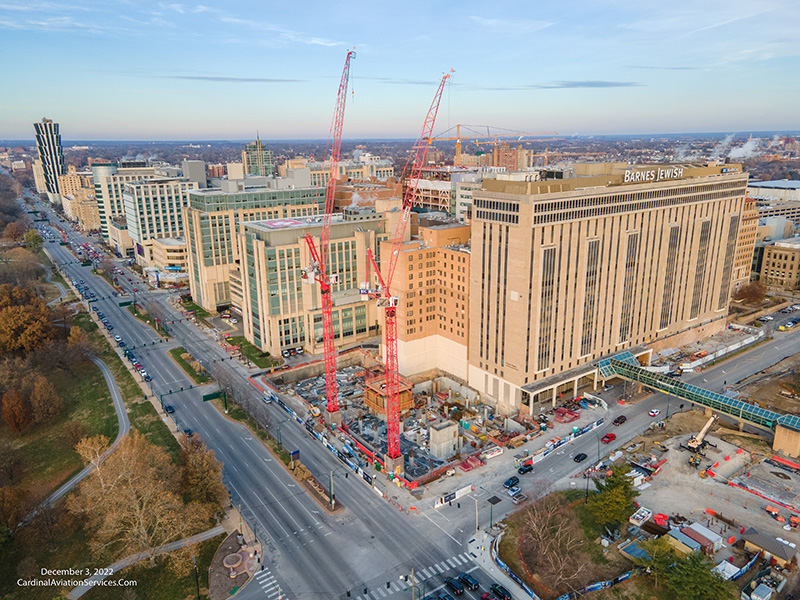 Washington University School of Medicine and BJC HealthCare have long partnered to improve the health of the St. Louis community and well beyond, by developing and applying fresh solutions, including groundbreaking care innovations, ingenuity in construction and innovative collaborations with grassroots organizations, like a community food hub that is helping under-resourced residents with diabetes take control of their health.
The innovation that happens on and near the Washington University Medical Campus is rooted in and built on relationships — relationships between WashU, BJC, and the communities the hospital and university serve; between scientists and physicians in an array of fields; and between physicians and staff and the many patients who come to the campus for lifesaving surgeries, clinical trials and wellness checkups.
The first stop on the tour highlights how relationships in the community and on the Medical Campus are improving the health of a nearby neighborhood and the people who live there.
Forest Park Southeast Neighborhood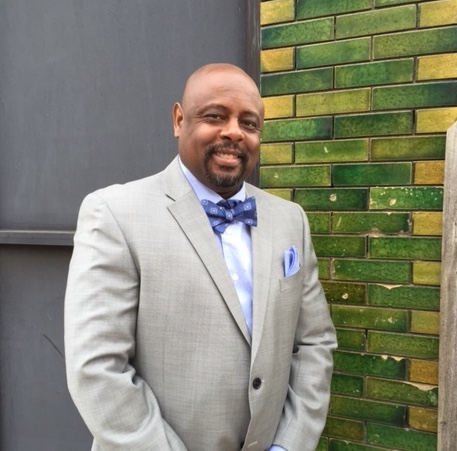 Once a crime-ridden area with boarded-up houses and empty lots, Forest Park Southeast's rebirth was led by the Washington University Medical Center Redevelopment Corp. WUMCR, a partnership between Washington University School of Medicine and BJC HealthCare, is housed on the Missouri Foundation for Health campus. Formerly an abandoned iron works factory, the campus has been revitalized as a hub of open-air offices where community leaders exchange ideas and resources to assist with neighborhood improvements. Brian Philips, WUMCR's executive director, and BJC HealthCare group president Bob Cannon will talk about multimillion-dollar investments that have helped Forest Park Southeast attract a diverse group of St. Louisans, especially those from the adjacent Medical Campus, who want to live near Forest Park and other cultural institutions. Then you'll board the bus for a tour with Brian, who will show you thriving developments such as Adams Grove, a contemporary, mixed-income housing complex that has inspired outside investments in Forest Park Southeast. The revitalization efforts have strengthened the city's heart and economic health.

Afterward, you'll travel to the Washington University Medical Campus, home of Barnes-Jewish and St. Louis Children's hospitals, part of BJC HealthCare, a nationally recognized health care network of hospitals and health service organizations.
Neuroscience Research Building
On your way to the Washington University Medical Campus, you will pass the Neuroscience Research Building, slated to open later this year. The 11-story, state-of-the-art research facility will merge, cultivate, and advance some of the world's leading neuroscience research. The 609,000-square-foot building and interconnected projects initially will bring together over 100 research teams focused on solving the many mysteries of the brain and the body's nervous system.
Those teams, comprising some 875 researchers, will come from a wide array of disciplines, including the medical school's neurology, neuroscience, neurosurgery, psychiatry, and anesthesiology departments. You'll hear from Jin-Moo Lee, MD, PhD, head of the Department of Neurology at WashU Med, and neurologist-in-chief at Barnes-Jewish Hospital. He will share how the building's design will accelerate neuroscience research, and you will learn about some of the groundbreaking work already being conducted at WashU Med. In the new building, researchers of all stripes will rub elbows in the building: basic scientists, clinical researchers, experts in many disciplines and diseases. The intermingling of people with different skills and expertise is designed to foster cross-pollination and generate new ideas and new approaches to tackling diseases of the brain and nervous system, including Alzheimer's disease, Parkinson's disease, and brain tumors.
The building and related construction, with an estimated cost of $616 million, sit at the eastern edge of the Medical Campus, in the 200-acre Cortex Innovation Community, one of the fastest growing business, innovation and technology hubs in the U.S. and home to numerous biotech startups founded by Washington University faculty, staff and students. The new building is one of four major ongoing building projects on the Medical Campus.
Pandemic-proofing the largest hospital in the state
As BJC HealthCare's flagship hospital, a provider of the most advanced level of care and the primary adult academic hospital for Washington University School of Medicine, Barnes-Jewish Hospital operates with more than 90% of its 1,200 staffed beds occupied on most days. The 660,000-square-foot patient tower under construction will not only increase capacity but will incorporate the latest in safety and comfort features.
Unfortunately, COVID-19 couldn't wait for the new tower to open.
When Barnes-Jewish began receiving unprecedented waves of critically ill COVID-19 patients, hospital leadership, infection prevention, risk management, patient safety, design and construction, housekeeping and other teams had to work fast to make the hospital as safe as possible for patients and staff. You'll hear from Donna Ware, BJC HealthCare planning and design executive director, who will talk about what it took to retrofit the state's largest hospital to accommodate waves of COVID patients, how they converted specialty intensive care units into COVID ICUs and how construction on the new tower paused, and was reimagined to have pandemic-proof accommodations to protect patients as well as the thousands of Barnes-Jewish front-line employees who put themselves on the line every day.
Healing the community with food
As in many American communities, Type 2 diabetes disproportionately burdens African Americans in the St. Louis area.
Diabetes has been proven to be costly to individuals diagnosed with it, their families, and their communities, causing patients almost 2 ½ times more in medical expenses per year than those without the disease. Uncontrolled diabetes, resulting in complications such as heart disease and kidney failure, costs even more.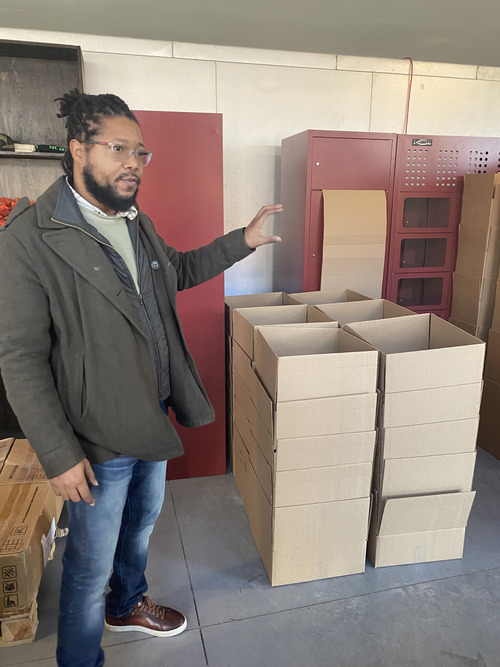 BJC HealthCare's Christian Hospital serves a predominantly African American population in north St. Louis County with a high incidence of Type 2 diabetes. To help patients address the health consequences of uncontrolled Type 2 diabetes, BJC launched a "food as medicine" pilot program in 2021 with the North Sarah Food Hub, a farm and food processing service that provides medically tailored meals to the St. Louis community. Through the program, qualifying patients and their families receive six weeks of healthy, prepared, culturally desired meals along with diabetes education.
Eat lunch at the North Sarah Food Hub and hear how the program has helped patients and their families change eating habits and take control of their health. Doneisha Bohannon, BJC community health improvement program director, and Gibron Jones, the North Sarah Food Hub founder, will discuss the program as well as other innovative community outreach initiatives.
After lunch, it's back on the bus and to the Medical Campus, where you'll visit three distinct areas aimed at improving human health. Our first stop is the:
Anesthesiology Control Tower
Using specialized software to provide a watchful eye over operating rooms at Barnes-Jewish Hospital, Washington University's Department of Anesthesiology has launched an Anesthesiology Control Tower to help provide additional support and monitor patients during surgery. Dr. Michael Avidan, Head of the Department of Anesthesiology, will explain how their new Perioperative Innovation Center – which houses the control tower and other anesthesiology-related telehealth initiatives – bolsters the close monitoring that is standard in the operating room and allows for continuous observation as patients move into the recovery room. The control tower team monitors real-time data in ORs to help identify potential risks and consider what measures might be taken to optimize patients' perioperative outcomes. Clinicians in the control tower also utilize artificial intelligence and machine learning tools to augment perioperative care and enhance patient safety in real-time.
Next, we head to the Center for Advanced Medicine and the Radiation Oncology Department, where you'll learn how two physicians — a cancer doctor and a heart doctor — teamed up to develop a novel, non-invasive treatment for ventricular tachycardia.
Radiation therapy for ventricular tachycardia
Oncologists typically avoid irradiating the heart when treating cancer. But cardiologist Phillip Cuculich, MD, and radiation oncologist Clifford Robinson, MD, developed an innovative technique that uses radiation therapy to treat a deadly heart arrhythmia called ventricular tachycardia. Eligible patients are at high risk of sudden cardiac death and have already been treated with standard invasive cardiac ablation therapies, to no avail. Ongoing studies have shown that doctors can map the arrhythmia with specialized imaging techniques and then use noninvasive radiation therapy to target the tissue that triggers the dangerous arrhythmia. The therapy, the result of a creative, cross-discipline collaboration, has proven effective, takes just minutes to perform, and allows the patient to go home the same day.
Neurodegeneration and sleep research in a space dedicated to translational medicine.
The last stop of the day will be a visit to a site devoted to bringing discoveries from the bench to bedside. Neurology researchers Yo-El Ju, MD, Brendan Lucey, MD, and Erik Musiek, MD, PhD, will discuss what they've discovered about the relationship between sleep, circadian rhythm and neurodegenerative conditions such as Alzheimer's, partly through studies conducted at the Clinical Translational Research Unit. Ju leads an international clinical trial investigating why people who act out their dreams are at very high risk of developing Parkinson's disease or a related condition. Lucey studies the relationship between sleep and Alzheimer's and leads a clinical trial to determine if improving sleep with sleep medications can reduce the risk of Alzheimer's disease. Musiek studies how disruptions to the body's daily cycle affect the health of the brain. The unit contains outpatient and overnight facilities with dedicated medical equipment. It is staffed around the clock, from Monday mornings to Friday evenings (and occasional weekends), by skilled research nursing staff and patient-care associates experienced in implementing sophisticated clinical studies.
Field trip 1 - Itinerary
8:30 a.m. - Board bus and head to Missouri Foundation for Health Campus
PROOF OF VACCINATION WILL BE REQUIRED BEFORE ENTERING BUILDING
9-9:30 a.m. - Building a sustainable neighborhood
Location: Washington U Redevelopment Corporation
Speakers: Brian Philips, executive director, Washington University Medical Center Redevelopment Corp., and Bob Cannon, BJC HealthCare group president and redevelopment board member
9:30 a.m. - Board the bus with Brian and see what you've just heard about!
Bus drives to Medical Campus, passing the Neuroscience Research Building slated to open this summer.
10 a.m. - Building collaborative research spaces and pandemic-proof hospitals
Location: Farrell Learning and Teaching Center, Washington University School of Medicine
Speakers: Jin-Moo Lee, head, department of neurology, and Donna Ware, executive director of planning and design, BJC HealthCare
11 a.m. - Bio Break
11:15 a.m. - Board the bus and drive by the under-construction patient tower and to the North Sarah Food Hub
Donna Ware and Doneisha Bohannon, director of community health improvement for BJC HealthCare, on bus for North Sarah Food Hub. Donna will note any additional construction pieces as we drive past the site, and Doneisha will share some history and what you're going to learn.
11:30 a.m. -12:30 p.m. – Building healthier community using food as medicine Location: North Sarah Food Hub
Tour with Doneisha Bohannon and Gibron Jones, founder of HOSCO Shift and the North Sarah Food Hub, and lunch
12:40 p.m. - Board bus and head back to Medical Campus
1-1:45p.m. - Anesthesiology Control Tower
Location: Northwest Tower, Washington U School of Medicine
Speaker: Michael Avidan, MD
1:45-2 p.m. - Walk to Center for Advanced Medicine
2-2:45 p.m. - Radioablation for Cardiac Ventricular Tachycardia
Location - Center for Advanced Medicine
Speakers - Philip Cuculich, MD, and Clifford Robinson, MD, and others
2:45-3 p.m. - Walk to Center for Outpatient Health
3-3:45 p.m. - Sleep and Alzheimer's
Location: Center for Outpatient Health floor 6
Speakers – Yo-El Ju, MD, Brendan Lucey, MD, and Erik Musiek, MD
Bus picks up journalists:
Barnes-Jewish Hospital Center for Outpatient Health
4901 Forest Park Avenue
St. Louis, MO 63108
---
Field trip 2
Beyond Ferguson: Tackling health, economic and racial inequities
in St. Louis
Registration for this field trip is full. All sign-ups will be added to the waitlist.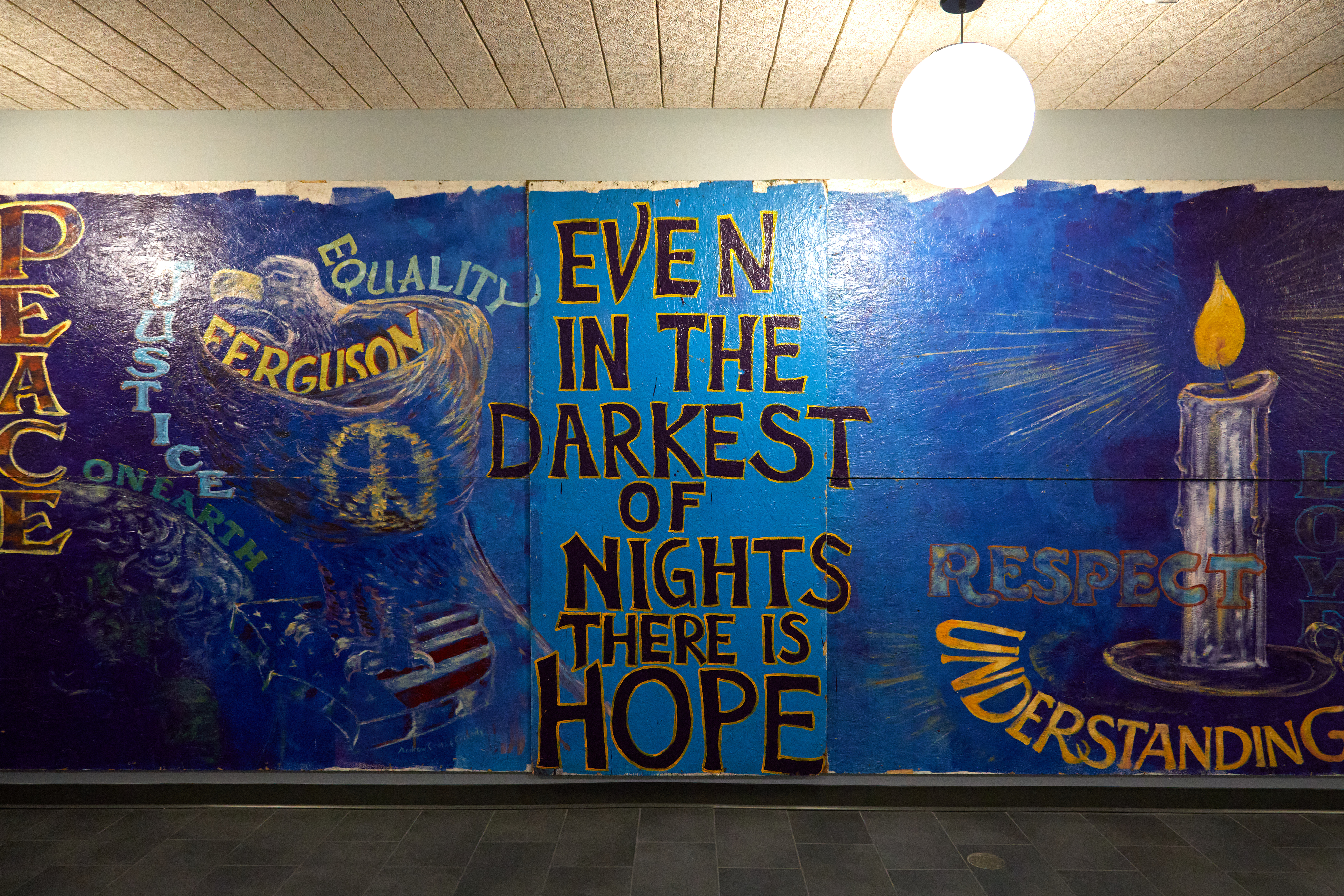 The Missouri Foundation for Health funds organizations and programs that address the social and economic factors that significantly influence health. Participants in field trip #2 will get a close look at some of those organizations and efforts in St. Louis City and County, beginning with a visit to a former hospital that is now home to some of the nonprofits working to make life better for some of the city's most vulnerable citizens.
It's DivINe
Words of hope call out from a mural painted in Ferguson during the "Michael Brown Revolution," which catalyzed a series of seismic events across the country almost a decade ago. The mural and several others from Ferguson now live at the Delmar DiviNe, a former hospital that is now a sleek multiuse facility and home to scores of nonprofits focused on eliminating and redressing racial inequities north of Delmar Boulevard in St. Louis.
The Delmar Divine is a play of words on the infamous "Delmar Divide" that has long been a racial and socioeconomic line of demarcation in the city. As the 2014 report "For the Sake of All" made plain, life north of the divide is often significantly shorter and harder for the people who live there because of all the factors known as the social determinants of health.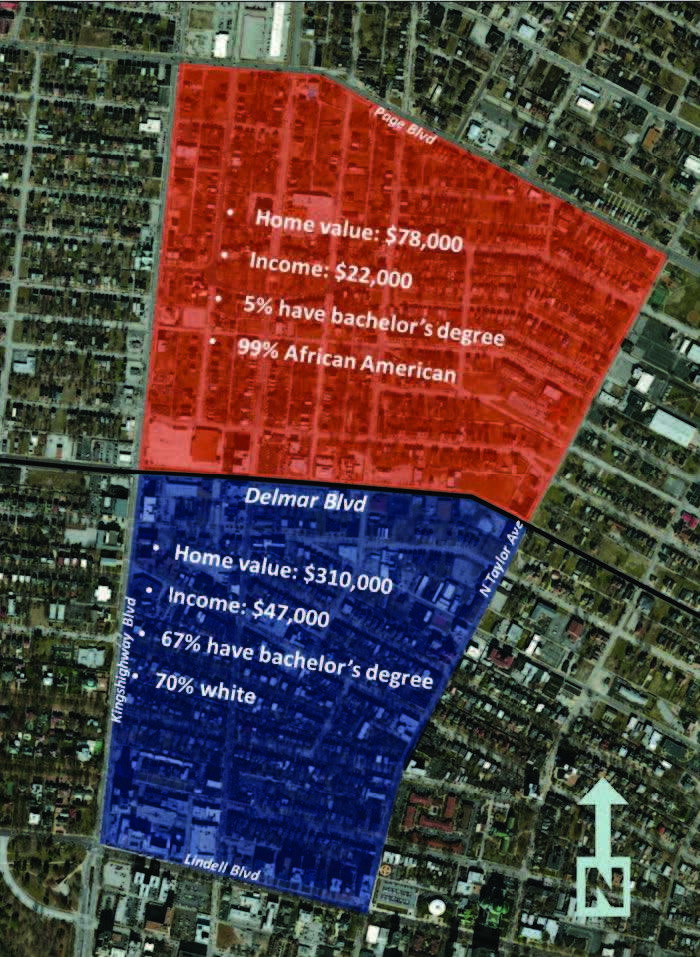 St. Louis remains one of the most segregated cities in the U.S., and African Americans in St. Louis City and County often have less education, less wealth, and, consequently, poorer health and shorter life expectancy than their white counterparts just one zip code away. The differences are striking.
And yet St. Louis has a huge nonprofit sector working on every imaginable aspect of the problem. So why do these inequities persist?
Maxine Clark, former CEO of the Build-a-Bear Foundation, believes she has an answer to that question that she brought to life with the creation of the Delmar DivINe, created in a former hospital and now home to a residential development and scores of nonprofit organizations. The DivINe's mission is to maximize the impact of the nonprofit sector in the St. Louis region, "especially among health, education and human service organizations while simultaneously being a catalyst for the transformation of neighborhoods in North St. Louis City."
Field trip participants will hear from leaders of several of the DivINe's nonprofit tenants and learn about progress and obstacles to overcoming inequities. One stop on the tour will give participants a look at The BRIC, an organization focused on one of the city's most persistent public health problems: firearm violence.
Although firearm homicides decreased in St. Louis in 2021, Missouri's homicide rate remains in the top 10 nationally, and homicide is the leading cause of death among African Americans in St. Louis ages 15-44. The Bullet Related Injury Clinic provides physical, mental, emotional and spiritual help to survivors of firearm violence. The staff is a combination of professionals and volunteers who work to meet the needs of people who've been discharged after a bullet injury and provide them with health care, which they often have not established elsewhere.
Beyond Housing: Where the heart is
What does it look like when you take decades of experience and insight from some of the smartest community development leaders in the country and combine it with the knowledge of experts in health equity from Washington University; and bright ideas from the Aspen Institute, the Stanford Social Innovation Review, NeighborWorks America and the Federal Reserve Bank of San Francisco?
What you get is the Beyond Housing model, which is rebuilding neighborhoods, striving to eliminate food deserts and creating nurturing spaces where people can be together. The central idea is that there's a lot more to helping families thrive than giving them a place to live. "Thriving families need a living wage, housing that's affordable, access to health care, successful schools, transportation and more."
People also need healthy food, sound infrastructure, access to essential services and a local government that is responsive to their needs within the community. This stop on the journey will show participants what a holistic model looks like in practice and hear from Beyond Housing CEO Chris Krehmeyer during a tour of some of the neighborhoods the organization has helped build or rebuild, and a commercial district with a movie theater, bank, grocery store, health care center and food hall where field-trippers will stop for lunch.
It's "family" in Swahili
One of the most urgent and troubling issues in health care for African Americans in the United States is maternal mortality. According to data from the "For Sake of All" report, "in 27% of African American births, the mother received inadequate prenatal care in St. Louis County. In St. Louis City, 38% of African American births were to mothers who received inadequate prenatal care." Compare those numbers to those of white mothers who received inadequate prenatal care: 5% in St. Louis County and 8% in St. Louis City.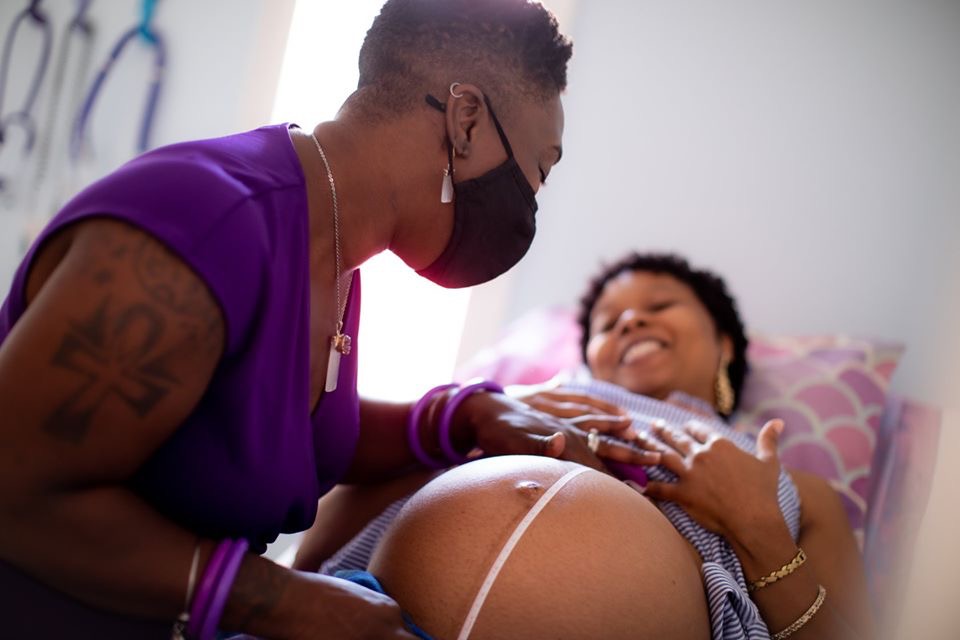 Improving those statistics in a setting that celebrates cultural heritage and provides warm, loving support to mothers is central to the mission of Jamaa Birth Village (it's pronounced Jah-MAH and means "family" in Swahili), located in Ferguson. Jamaa is Missouri's first Black-owned midwifery clinic and will soon add a birth center down the street.
The organization also trains Black doulas, who once played a crucial role, especially in the American South, in attending to the needs of mothers before, during and after they gave birth. Changes in health care — some of them for the best, but not all — reduced the number of Black doulas and midwives, a change that many have linked to racism and the racial disparity in maternal mortality in the U.S.
Participants will hear about how Jamaa provides pre-natal, birthing and post-partum support to mothers and also works to ensure the health of their babies, who, statistically, are less likely to survive their first year if they're born to an African American mother in St. Louis. The two-year family care model brings together evidence-based midwifery and doula care, perinatal mental health support, breastfeeding education, holistic therapies, childbirth education, family support services and more.
Participants will also see the one-acre site of a birthing and postpartum retreat center which Jamaa is raising funds to build on in the heart of Ferguson, within walking distance of Jamaa Birth Village Equal Access Midwifery Clinic.
The postpartum retreat center will give low-risk birthing people who don't have a support system at home with the ability to give birth, rest and heal in a safe and sacred space, while being nourished and cared for by experts in their community who look like them. The goal is to provide on-site holistic birthing services, extended, traditional and wrap-around retreat style postpartum care for seven days following birth.
Anti-racist trauma care for survivors
The journey ends back on Delmar at The T for a conversation with Dr. L.J. Punch, a trauma surgeon and co-founder of St. Louis' "Stop the Bleed" campaign, and the team. The T offers "holistic healing from trauma" no matter what the cause — homelessness, opiate addiction or overdose, violence or COVID-19.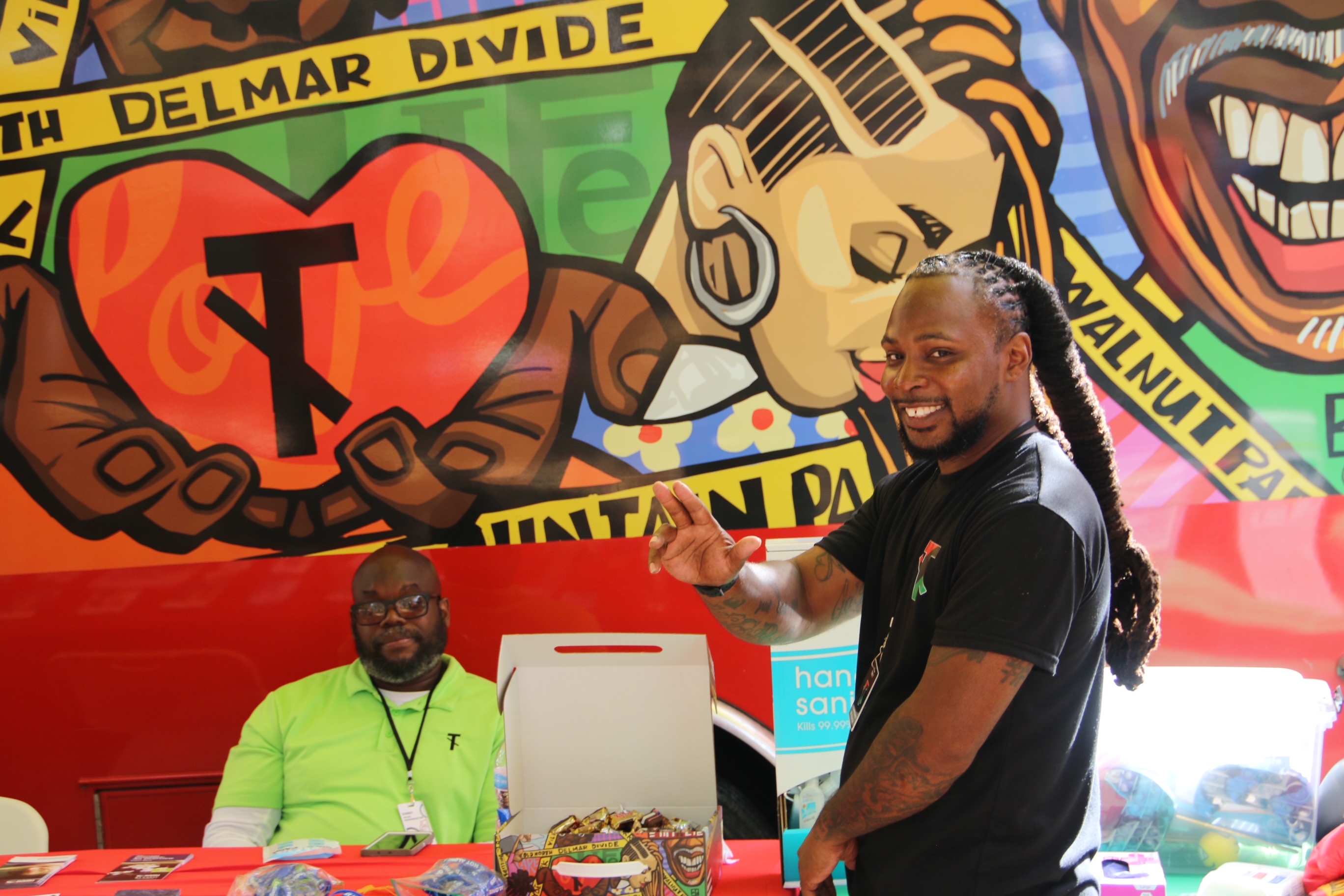 Punch was educated in medicine at the University of Connecticut and then trained in surgery at the University of Maryland and the Shock Trauma Center in Baltimore. He moved to Ferguson after the fatal shooting of Michael Brown to join the faculty at Washington University's School of Medicine. Punch left academic medicine after the pandemic and now works as executive director of The T.
He has focused his life's work on education, trauma and equity, and The T, founded in 2018, is one product of those passions. A collaboration of community members, students and health care professionals, The T endeavors to "reduce the impact of trauma through broad public health campaigns, mobile outreach and brick and mortar services."
Field trip participants will have an opportunity to speak with some of The T's staff — including trauma survivors — about the work, the challenges and what journalists should understand about Black trauma.
Recommended reading for the field trip: "For the Sake of All: A report on the health and well-being of African Americans in St. Louis and why it matters for everyone"
Field trip 2 - Itinerary
8 a.m. - Group boards bus at Union Station Hotel
8:15 a.m. - Group arrives at the Delmar DiviNe, 5501 Delmar Blvd., St. Louis.
8:30 a.m. - Greeting to group with an overview of the history of the DiviNe and the 20,000-foot view of its purpose by Maxine Clark, chief inspirator and former CEO of Build-a-Bear.
9 a.m. - Tour begins of the DivINe and and a look at Ferguson murals.
9:15 a.m. - Stop at The BRIC, the Bullet Related Injury Clinic.
9:45 a.m. - Panel discussion: Breaking systemic barriers (and what others can learn from the St. Louis experience)
Rose Anderson-Rice, Deputy Director, Generate Health: Generate Health mobilizes and inspires the St. Louis region to advance racial equity in pregnancy outcomes, family well-being, and community health.
Deanna Finch, Executive Director, United 4 Children: United 4 Children provides high-quality support to childcare and afterschool programs so that families can feel at ease knowing their children, regardless of ability, are receiving the best care possible and have every opportunity to succeed.
Faybra Jabulani, Executive Director, Forward Through Ferguson: Forward Through Ferguson is a social justice organization that works to advance racial equity and systemic change in the St. Louis region. It aims to address and end systemic racial inequities by elevating the voices and experiences of communities of color, engaging a cross-sector coalition, and driving policy change.
Matthew Kreuter, Kahn Family Professor of Public Health: Kreuter is a leading national public health expert in the field of health communications. Kreuter has developed and evaluated a wide range of health communications programs to promote health, modify behavior, and prevent and manage disease.
Diana Parra Perez, Research Assistant Professor, Brown School at Washington University: Parra Perez focuses her research on the promotion of health and wellness through community-based programs for physical activity, nutrition, yoga, and mindfulness, geared towards marginalized, underrepresented, and oppressed minorities, particularly the Latinx immigrant population in the United States.
Moderator: Gary Parker, Associate Dean for External Affairs & Director, Clark-Fox Policy Institute: As director of the Clark-Fox Policy Institute, Gary leads a programmatic and research agenda driven by a commitment to advancing social and economic justice for children and the adults who care for them. Through the institute, he leverages a vast network of transdisciplinary scholarship and community knowledge to inform critical policy issues.
11 a.m. - Back on the buses, travel to Beyond Housing, 6506 Wright Way, St. Louis, pick up CEO Chris Krehmeyer for a tour of key sites, travel to the commercial hub and The Food Hall, 6748 Page Ave.
Conversation over lunch
1 p.m. - Back on the bus for travel to Jamaa Birth Village, Equal Access Midwifery Clinic, 40 N. Florissant Road, Ferguson. Tour of the midwifery clinic and Jamaa's new birthing center, breaking ground less than three blocks away.
1:45 p.m. - Back on bus for final stop at The T, 5874 Delmar Blvd., St. Louis. A conversation with The T team and Dr. Punch.
Ends at 3:30 p.m., back to the hotel