Health Journalism 2022: Field trips
Exploring community-based solutions for improving
health care access
and ending chronic homelessness
Field trip #1: St. David's Foundation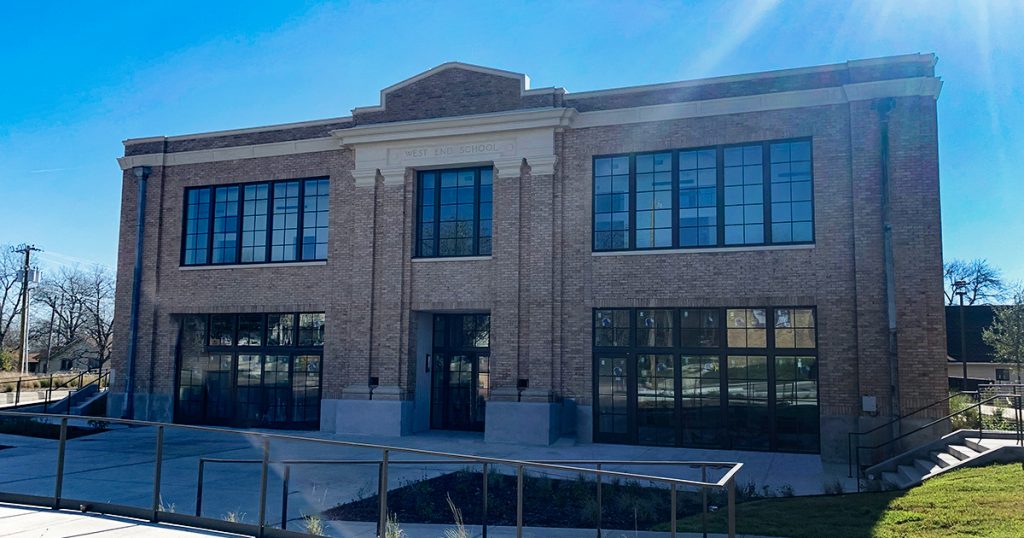 Equitable access to health care and chronic homelessness are two of the most pressing issues facing communities across the country.
On this field trip, you will get a close look at some of the innovative approaches to providing solutions to these challenges in Central Texas. You will get a deep look at how centering social determinants of health and access to quality care – in two very different ways – makes it possible to meet communities where they are.
Your journey will begin with a trip outside Austin's urban core to Taylor, a small town facing big challenges in providing health care to its community. The first stop is the new Taylor West End School, a community anchor and health hub created by Lone Star Circle of Care (LSCC), a Federally Qualified Health Clinic, to improve public health in new ways.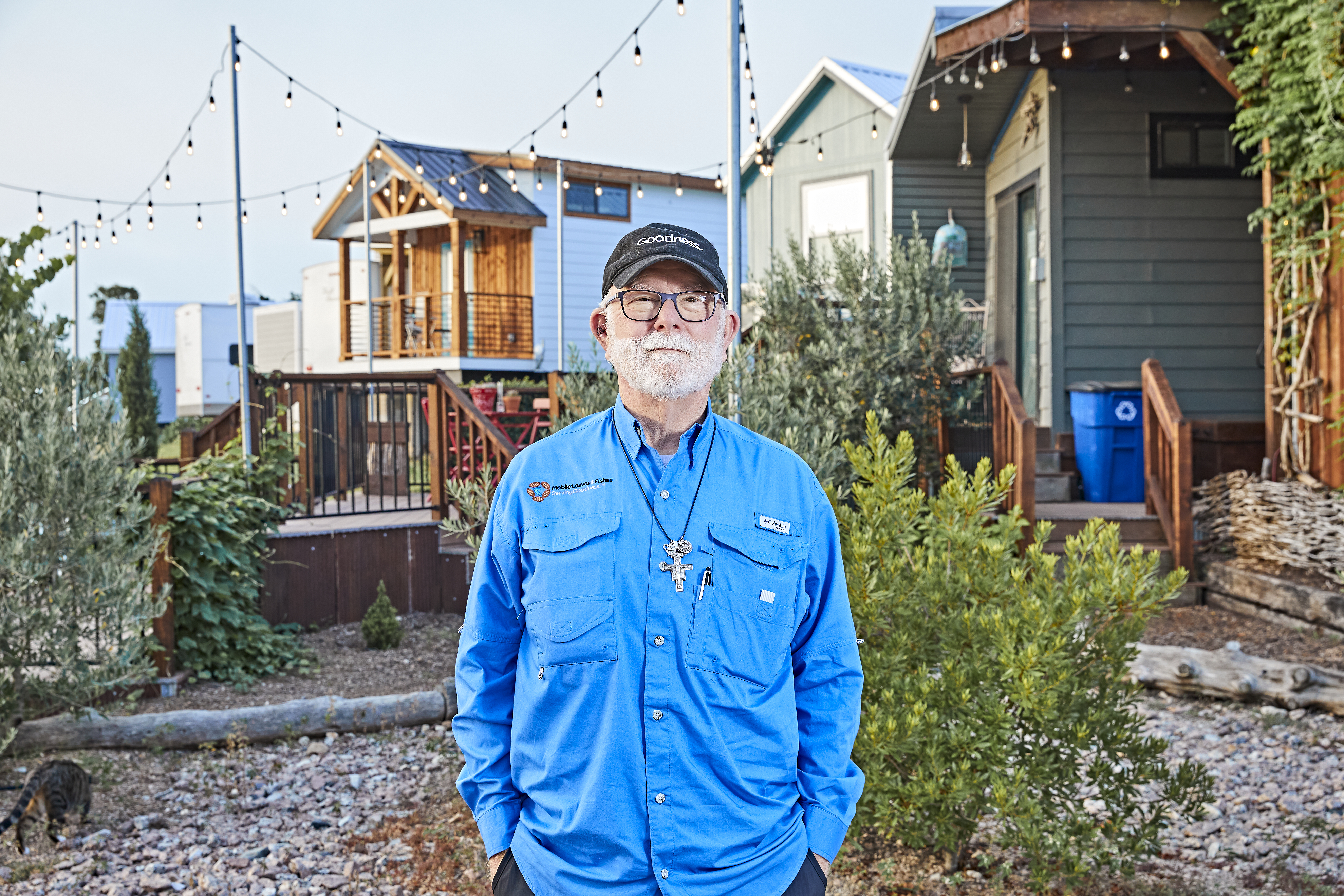 As in many rural areas across the country, Taylor residents face enormous barriers to timely, quality care. Historically, Taylor has been a small farming community with mostly agricultural industry. Soon, this fast-growing area will be home to a massive Samsung production facility, which is expected to bring thousands of tech jobs to the region but also exacerbate the economic divide.
The booming growth of Taylor makes the need for comprehensive health care access, particularly for underserved communities, particularly urgent. This clinic, embedded in a neighborhood "health equity zone," is a unique example of a hub addressing many dimensions of the social determinants of health, beyond just the clinical setting, to improve the health outcomes of children, their families, and older adults. You will tour the facility and meet the team who support this integrated, whole-person care model.
Afterward, you'll travel to Austin's most talked-about neighborhood: Community First! Village. This master-planned, innovative community situated on 51 acres in East Austin provides affordable, permanent housing and a supportive community for men and women transitioning out of chronic homelessness.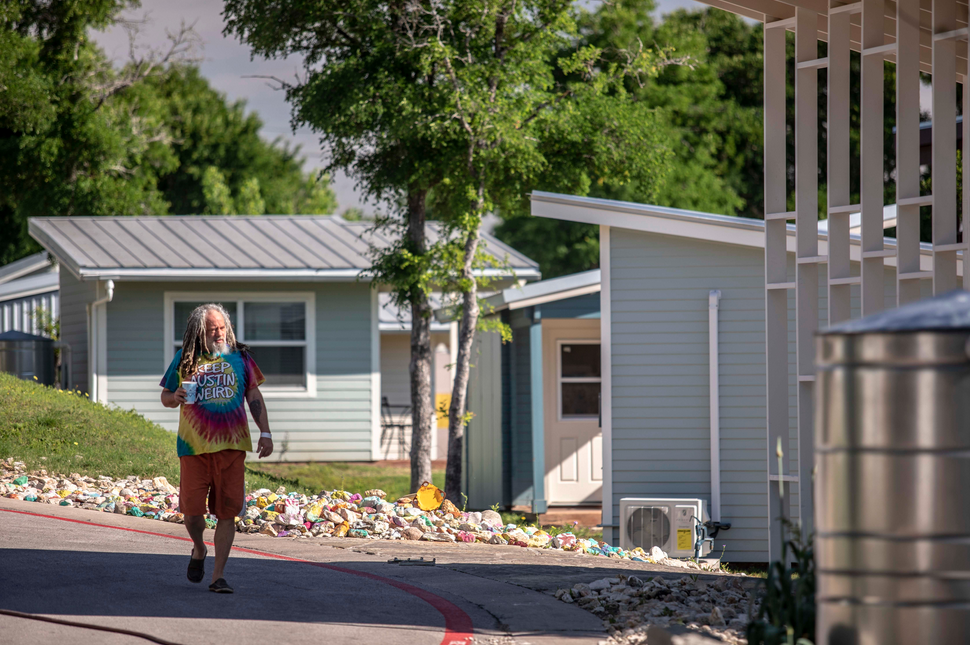 Through employment and micro-enterprise opportunities, residents rediscover purpose and apply their talents to earn an income and become self-supporting. Breaking ground in 2015, this transformative residential program has become the largest community-based model in the country to support homeless men and women in their journey off the streets.
Itinerary
9-11 a.m.
Community-centered health hub for 'whole' person care
Location: Lone Star Circle of Care at Taylor West End School
Presentation and Tour
Speakers: Kathleen Butler, chief medicical officer; Brandt Rydell, mayor of Taylor; clinic physicians and program directors, including co-located service providers (e.g. Meals on Wheels)
11-11:45 a.m.
Bus ride to Community First! Village/Mobile Loaves and Fishes
Noon-2:45 p.m
Community-based approach to ending homelessness
Location: Community First! Village Lunch, Presentation, and Tour
Speakers: Alan Graham, Founder and CEO; Programs leads and CFV leadership; Amber Fogarty, President; Tracee Henneke, Director of Relationships & Giving
Background: Video, Media
3-3:30 p.m.
Bus ride back to hotel

The brain, computational medicine and better design
Field trip #2: UT-Austin/Dell Medical School
The brain controls much of what it means to be human — speech, memory, reasoning and everything we feel, think and believe. When brain surgery is necessary, the areas that control these crucial functions are often perilously close to the surgical site.
But what if there were a way to shift critical brain functions farther away from the surgical site, lowering risks to those critical functions? This field trip will begin with the doctors, engineers and scientists at The University of Texas at Austin who are launching a study to help adolescents who need brain surgery for epilepsy — advances that may one day also lead to new approaches to treat neurological conditions such as stroke, traumatic brain injury and post-traumatic stress disorder.
As part of a three-year study, researchers are exploring brain-machine interfaces and neuroplasticity can help the brain rewire itself before surgery, move key functions away from the surgeon's target, and recover more quickly afterward. You'll see the specially designed treadmills that are being modified to help retrain the brain, and you'll learn about the various types of stimuli – music, visuals, colors – that can affect changes in the brain's structure through virtual reality video games. You'll also witness the burgeoning world of electroceuticals – fascinating devices and technologies in development to aid in Parkinson's and similar neurological diseases related to aging.

This figure shows diffusion weighted, magnetic resonance imaging data (yellow, red, purple) used to estimate the extent of tumor burden and tumor cellularity for each patient. These images are then used to personalize predictive models of tumor growth and response (black). Credit: David Hormuth, Oden Institute for Computational Engineering and Sciences
Next, you'll visit the TACC Visualization Lab at the Oden Institute, where you'll learn about computational medicine. The approach combines the requisite mathematical know-how with medical expertise so data can be used to model complex human systems along a spectrum of scales. Simulations can be built at the cellular level, the organ level of the human body, or even for an entire health care system.
These simulations are dynamic entities — as multilayered and complex as the human body itself — that can be improved and built upon as new research emerges and reshapes established medical wisdom.
At its core, computational medicine aims to capture the individuality of health and disease for accurate diagnoses and treatment. The Oden Institute for Computational Engineering and Sciences at UT Austin is the world leader in computational medical research, thanks to its strong ties with health care innovators at Dell Medical School, access to the supercomputing power of the Texas Advanced Computing Center (TACC) as well as ongoing collaborations with MD Anderson Cancer Center in Houston, one of the world's leading cancer research facilities.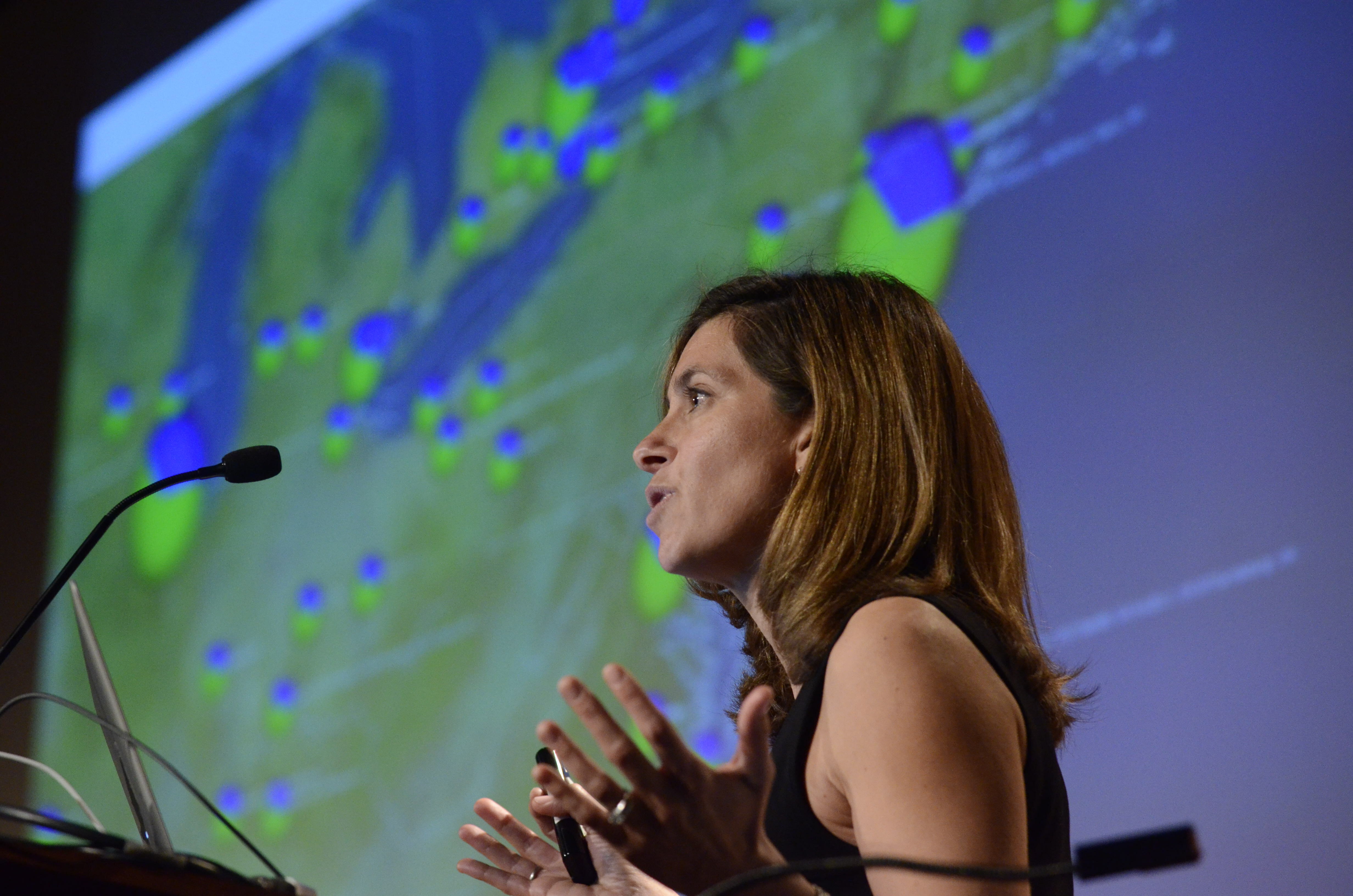 Next, over lunch, you'll hear from Professor Lauren Ancel Meyers, who has led an interdisciplinary team since March 2020 at the University of Texas at Austin COVID-19 Modeling Consortium in providing critical scientific guidance during the pandemic. Her team has built powerful COVID-19 forecasting technologies — relied upon by government leaders and policymakers. She has also trained UT students in state-of-the-art modeling and educated the public through dashboards, articles, and national media appearances.
Meyers will discuss the consortium's work supporting policymakers and health professionals on the frontline by building predictive models and designing effective interventions, including the national expansion of testing efforts, protocols for opening schools, and effective strategies for rolling out COVID-19 vaccines. In partnership with the Texas Advanced Computing Center (TACC), the Consortium maintains a public-facing website that provides critical scientific findings, a dashboard showing the disparity of COVID-19 burden and social vulnerability in hospitalizations, deaths, and vaccine coverage in Austin, COVID-19 hospital admissions throughout Texas and across the US, and a school opening risk calculator.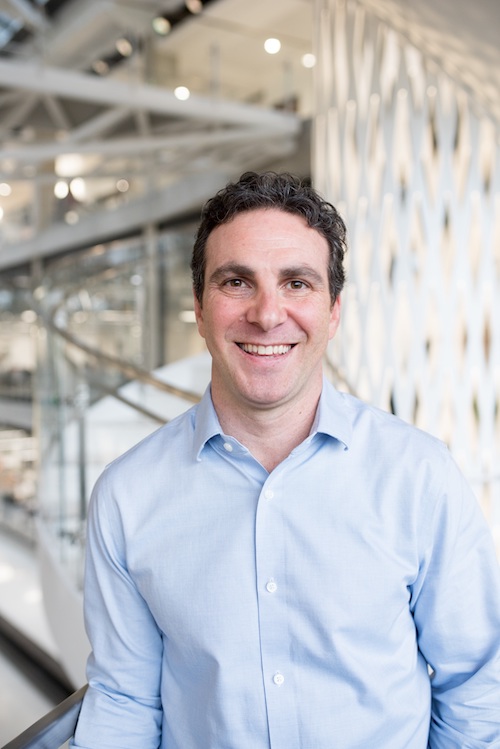 Next, we'll visit the Mechanical Engineering lab of Dr. James Sulzer, whose young daughter's tragic accident sparked the creation of the Cellular to Clinically Applied Rehabilitation Research and Engineering Initiative at the University of Texas at Austin's Cockrell School of Engineering. Here, he guides a diverse set of students and researchers who have rallied around him and his daughter Livie to develop various neurorobotics technologies that field trip participants will be able to see and learn about.
Sulzer also discusses translating personal clinical need to research. Spending hours in therapy at home with his daughter has inspired some research based on the shortcomings of current standard of care. One example is tracking her vision status, which led to collaboration with a computer science researcher to develop a home vision assessment test.
Background reading for the visit to Sulzer's lab:
Cockrell School of Engineering: 
Itinerary
9:30-10:30 a.m.
Exploring Brain-Machine Interface, Neuroplasticity and Electroceuticals
Location: Dell Medical School at UT, Health Discovery Building
Speakers: David Paydarfar, Jose Millán
Background: Statesman article; Dell Med release.
10:30-10:45 a.m.
Ride bus to Peter O'Donnell Building
10:45–11:45 a.m.
Computational Medicine: The Future of Health is at UT Austin
Location: Peter O'Donnell Building, TACC Visualization Lab, Oden Institute
Speakers:
11:45-12 p.m.
Bio break
12-1 p.m.
Lunch Speaker: "Helping the World Respond to COVID through Computational Modeling"
Location: Peter O'Donnell Building, 5th floor conference room
Speaker: Lauren Ancel Meyers
1-1:15 p.m.
Walk to Anna Hiss Gym
1:15-2:15 p.m.
Location: Neurorobotics rehabilitation lab
Speaker: James Sulzer
Back to bus then to hotel by 3 p.m.